Express Shipping
1-3 Working Days
Return & Exchange
In 7 Working Days
Philips 600i series Air purifier (AC0650)
Product Code: AC0650
Availability: In Stock
Our most energy-efficient, compact air purifier
Cleans the air from allergens and pollutants
Purifies rooms up to 44 m²

Operates at max. 12W

170 m³/h clean air rate (CADR)

Connected to the Air+ app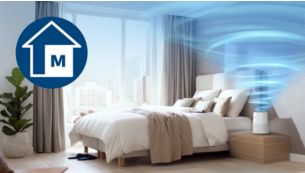 Removes pollutants in under 17 mins(3)
Our air purifier delivers clean air to every corner of the room at a CADR of 170 m3/h, thoroughly purifying rooms up to 44 m2. Say goodbye to pollutants like PM2.5, bacteria, pollen, dust, pet dander and more in under 17 minutes (3).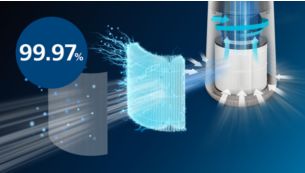 Filters 99.97% particles as small as 0.003 microns (1)
Our 2-layer filtration system featuring NanoProtect HEPA technology captures an impressive 99.97% of ultra-fine particles as small as 0.003 microns (1) NanoProtect HEPA technology not only traps pollutants, but also uses an electrostatic charge to attract them, cleaning up to 2x more air than traditional HEPA H13 filtration, with higher energy efficiency(2).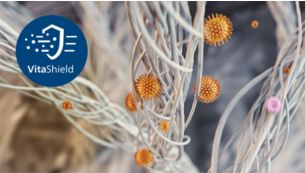 Removes viruses and aerosols from the air (5)
Virtually nothing escapes VitaShield expect purer, cleaner air. VitaShield tehcnology captures aerosols, germs and particles as small as 0.003 microns, smaller than the smallest know virus. Tested independently by external lab to remove H1N1 virus from the air. Also tested to remove 99.99% of HCov-E229 virus (5).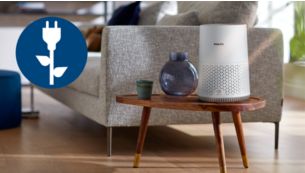 Energy-efficient design
Achieve cleaner air with minimal energy consumption and save money on your energy bill. Operating at max. 12W, our purifier is 2x more energy-efficient than other leading air purifiers (7). In sleep mode, it consumes just 2W, 30x less energy than a traditional lightbulb.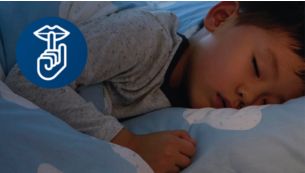 Ultra-quiet and no light disturbance
Enjoy undisturbed sleep with our innovative purifier. In sleep mode, it operates only at 19 dB (6), quieter than a whisper. Also, the digital display light is dimmed, minimizing any light disturbance. With this setting, the air in your home will be clean always, even at night time.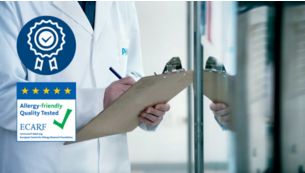 Thoroughly tested for durability and quality you can trust
When choosing Philips, you choose Philips for a trusted brand with 80+ years of experience in air care and health tech. Our air purifiers undergo 170 strict inspection tests before release and are certified by the European Centre for Allergy Research Foundation.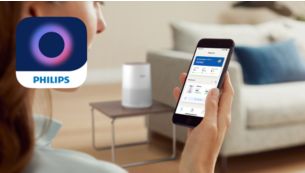 Control your air purifier with the Philips Air+ app
Use our app for extra convenience and control. In the app, you can turn your purifier on and off, adjust speed settings, and monitor your filter status. Additionally, learn more about air purification through our collection of in-app articles and check outdoor air quality data, available to you anytime, anywhere.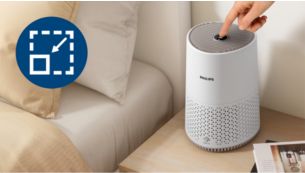 Compact size and sleek design
Our purifier's compact size and sleek design make it the perfect complement to any space, effortlessly enhancing both the air comfort and aesthetic of your home. At just 34 cm tall, it is perfect to be placed on a desk or shelf. Enjoy fresh and clean air with a touch of sophistication.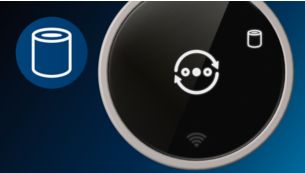 Filter lifetime Indicator
Our purifier alerts you when it's time for a filter replacement, ensuring that you always have optimal performance with minimal effort. Plus, our Philips original filter guarantees optimal performance for up to 12 months, ensuring that your air is clean all year around.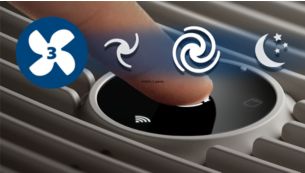 3 manual speeds: medium, turbo, sleep mode
Customize your air purification experience with our purifier's three different speed settings: sleep, medium, and turbo. For efficient air purification when pollution levels are high, simply set your purifier to turbo mode for fastest results.
Technical Specifications
Energy efficiency

Max. power consumption

Stand-by power consumption

Voltage

Maintenance

Recommended filter change

Replacement filter

Service

2-year worldwide guarantee

Connectivity

App, connects via Wi-Fi

Smartphone compatibility

iPhone and Android devices

Weight and dimensions

Product weight

Dimensions of product (LxWxH)

Dimensions of packaging (LxWxH)

Weight incl. packaging

Color(s)

Performance

CADR (Particle, GB/T)

Room size (NRCC)

Filtration

Particle filtration

99.97% at 0.003 microns (1)

Allergens filtration

Virus & aerosol filtration

Usability

Cord length

Sleep mode

Manual speed settings

Min. sound level (Sleep mode)

Max. sound level (Turbo mode)
(1) From the air that passes through the filter, tested with NaCl aerosol by iUTA according to DIN71460-1.
(2) Philips air purifiers have higher Clean Air Delivery Rate and energy efficiency with a NanoProtect HEPA filter than with a HEPA H13 filter, tested to GB/T 18801.
(3) It is a theoretical time for one-time cleaning calculated by dividing its CADR 170 m²/h by the room size of 48 m² (assuming the room is 20 m² in floor area and 2.4 m in height.
(4) From the air that passes through the filter material, tested with birch pollen dust on filter media according to SOP 350.003 of the Austrian OFI institute.
(5) Microbial reduction rate test at external lab, with appliance running in turbo mode for 1.5 h in a test chamber contaminated with HCOV-229E virus aerosols. While related to it, HCOV-229E is not SARS-CoV-2, which causes Covid-19.
(6) The average noise level, tested to IEC 60704-1 - 2020, MOD.
(7) Declared CADR per Watt, at max. power, vs. top-20 selling air purifiers on Amazon Germany, March 2023
(8) The recommended lifespan is calculated based on the average usage time of the Philips users and the WHO data on the pollution level in the city. Actual life is affected by usage environment and frequency. Applicable only in countries where the Philips store is available.
Write a review
Note:

HTML is not translated!