Express Shipping
1-3 Working Days
Return & Exchange
In 7 Working Days
PANASONIC TK-CS200 COUNTERTOP WATER PURIFIER TK-CS200-HMA/WMA (White/Grey)
Product Code: PANASONIC TK-CS200
Availability: In Stock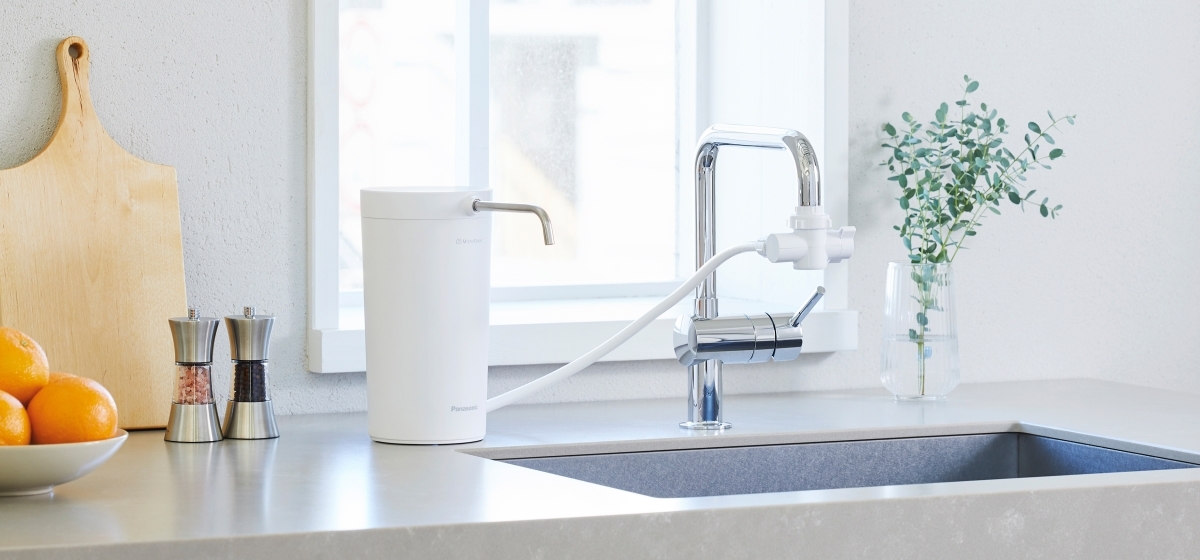 12000 L of Clear Water with Just 1 Cartridge : Just one cartridge can purify around 12000 L of water. The cartridge can last for a whole year even when purifying 30 L of water a day, reducing the time and effort spent on cartridge replacements. Eliminating the need to purchase bottled water can not only save money, but it can also help to
reduce waste from plastic and glass bottles disposal.
Super Wide Filter for Long-life Water Purification : The Super Wide Filter* is made of non-woven fabric and powdered activated carbon, and can thoroughly capture turbidity, residual chlorine and iron (particulate form). Folding the non-woven fabric increases the flow path area, contributing to a longer filter life and the purification of large flow rates of tap water.* Approx. 1.22 times the filter surface area of the conventional P-5JRC.
Plentiful Access to Clear Water : Purified water that only comes out in trickles is not ideal for busy kitchen tasks. The TK-CS200 produces a high flow rate of 6L/min, providing plentiful water for drinking, washing vegetables and seafood, and cooking.
Three-step Easy Installation : Step 1 Attach bypass selector to tap, Step 2 : Connect hose to bypass selector, Step 3 : Attach outlet pipe to main unit
Suitable for Confined Spaces : The TK-CS200 boasts a sleek, compact design with a diameter of just 13.3 cm, making it perfect for confined spaces.
Flexible Installation to Suit Your Location : The angle of the nozzle can be rotated 340 in line with the purifier's position in relation to the sink. This ensures the purifier can be installed where it does not get in the way of kitchen tasks.
Convenient Features :
Easy Water Flow Switch : The lever enables easy switching between purified water and unpurified water with a simple operation.
Easy Cartridge Replacement : The filter cartridge can be easily removed by pulling and turning the cover in a counterclockwise direction.
Remember When to Replace Cartridge : Customers can write the date they started using the cartridge on the attached label and affix it to the purifier to remind them of the timing of replacement.
Main materials : Main unit (ABS), resinBypass selector (ABS resin), Hose (Vinyl chloride)
Main unit : Dimensions (About 133(W) X 145(D) X 251(H) mm), Weight (About 1.0 kg (about 2.6 kg when full of water))
Temperature of water used by Water Purifier: Under 35 C (under 80 C for bypass selector)
The lowest applicable dynamic water pressure : 40 kPa
Pressure of water used by Water Purifier (dynamic pressure) : 40 kPa to 350 kPa
Usable water service pressure (static pressure) : 40 kPa to 750 kPa
Filtering capacity : 6.0 L/min. [at 100 kPa water pressure]
Cartridge Installed In the unit : TK-CS200C
Purification capacity : Free residual chlorine 12 000 L (*1)Turbidity 12 000 L (*2)
Removable substances : Iron (particulate form) Can be removed (*3)
Guide for time to replace cartridge : About 1 year
Filter material : Non-woven fabric, activated carbon
Components which cannot be filtered out : Iron dissolved in water, heavy metals (silver, copper, etc.), salt (seawater)
Note : All figures given are for a water temperature of 20 C.
Note : This product cannot convert hard water into soft water.
Note : (*1) This value is for a removal rate of 80 % based on JIS S 3201 tests
Note : (*2) This value is for a filtration flow volume of 50 % based on JIS S 3201 tests
Note : (*3) This substance is for a removal rate of 80 % based on specification standard tests (JWPAS B standards) stipulated by the Japan Water Purifier Association (JWPA)
Note : Note that it is not stipulated as part of purification capacity.
Note : (*4) This period applies when 30 liters of water are used a day. If 60 liters are used a day, the cartridge usage limit will be approximately 1/2. The period may also be significantly less depending on the amount of water used and on its quality and pressure.
Write a review
Note:

HTML is not translated!